Celebrate 65 Years of Big Thunder Gold Mine!
Our celebration encompasses the history of the Black Hills Gold Rush and its importance to its community and the Keystone area!

Big Thunder Gold Mine (originally named Gold Hill Lode) was discovered in 1892 by two German immigrant miners, W.B. Krupp and J.A. Engle during the Black Hills Gold Rush. For decades, miners would drill into solid rock striking the Lucky Boy and Columbia veins. By 1914, the two had cut 680 feet into the mountain and 240 feet underground. Miners would find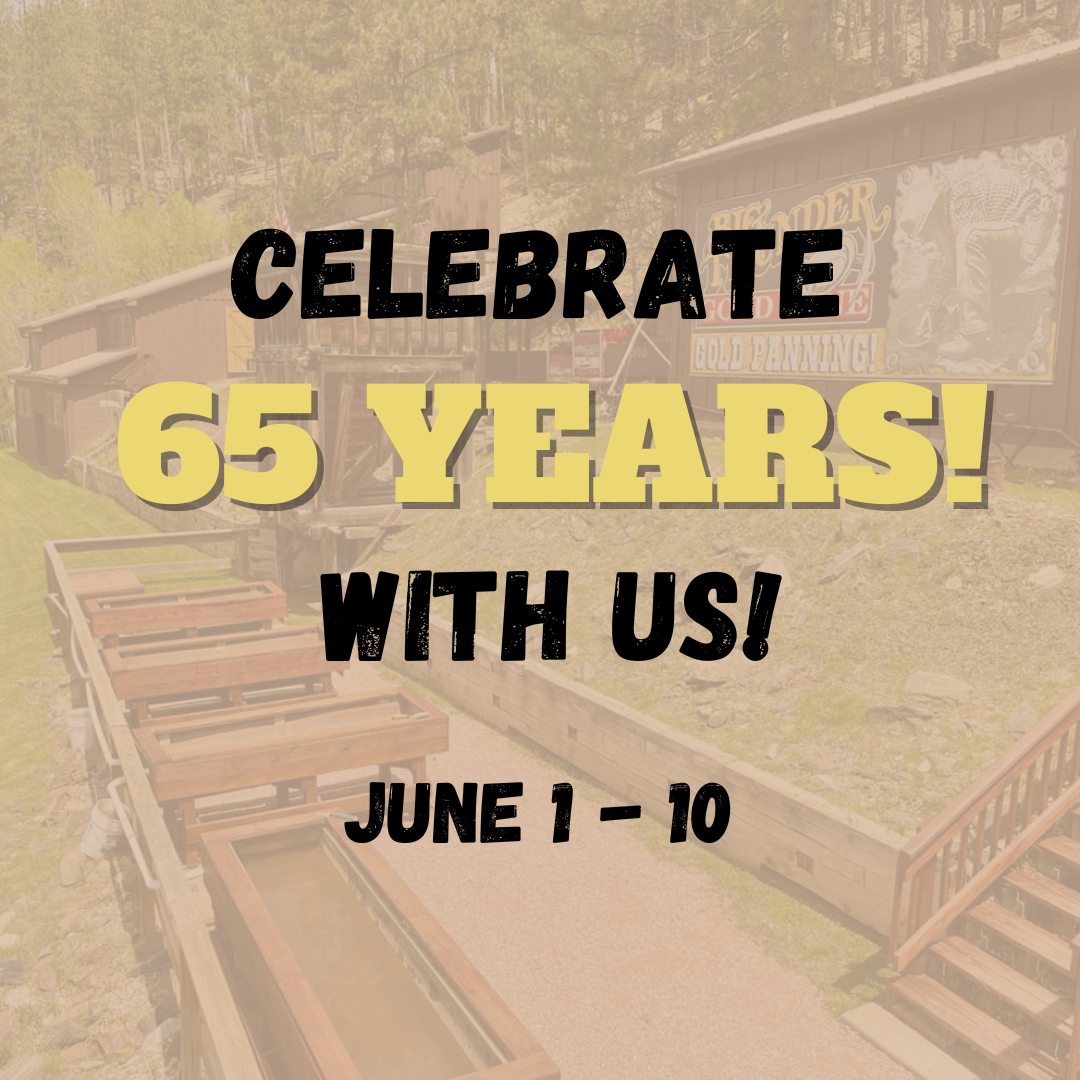 the mine was rich in minerals such as pyrite, graphite, arsenopyrite, but they were not so lucky at striking gold. After 22 years of trial, anticipation, disappointment, discovery and accomplishment, Engle and Krupp decided to finish their mining journey.
*Did you know that Big Thunder Hold Mine holds the largest collection of mining equipment in the entire Black Hills?
*Did you know that our Claim Panning is environmentally safe utilizes gravel from the creek?
Even though mining was halted decades ago, the fun had only just begun. Today, Big Thunder Gold Mine still stands as it was over a century ago, and remains one of the safest and most maintained mines in the Keystone, SD mining district. For 65 years, Big Thunder has been transporting families here and from around the world back to the Black Hills Gold Rush era. With authentic and exciting experiences such as our mine tours, on-site gold panning, claim panning, and our mining museum filled with thousands of gold mining artifacts, there is plenty of fun and memories to be made with your family and friends.
*Did you know that we have two forms of panning: Claim panning and gold panning. Claim panning is the process of digging in the Earth, classifying and sluicing to excavate gold. Gold panning
To celebrate 65 years of sluicing, digging, and Black Hills entertainment, Big Thunder Gold Mine will be hosting a week-long event that will last June 1st through June 10th! Our celebration will include:
Demos on speed and regular panning
Games, drawings and specials
Specials at our Big Thunder Bar and Grill restaurant on our spicey buffalo meat and a surprise special
10% off for all adults at our restaurant on admission
Buy one drink get another 50% off at our Coffee Cabin
And more!
*Did you know that our restaurant, coffee cabin, and mine offer very moderate prices compared to other attractions?
So, what are you waiting for?! Book your next tour during our anniversary celebration and join in on the discounts, accommodations, and fun!

BOOK Your Next Adventure!!